Recently, Mobile Coach founder and CEO, Vince Han, gave a webinar hosted by InSync Training on the topic of chatbots as a scalable solution for corporate training departments. As part of the webinar, InSync Training and Mobile Coach developed the infographic below. We invite you to continue reading below so you can start improving your corporate training today!
Chatbots can be used in a variety of applications from customer service to marketing to news and weather. With messaging apps recently become more popular and used than social media, it is almost a guarantee that the chatbot storm will continue to grow. Because chatbots are easy to integrate into a multitude of platforms they are on the cusp of rendering apps and traditional web pages obsolete.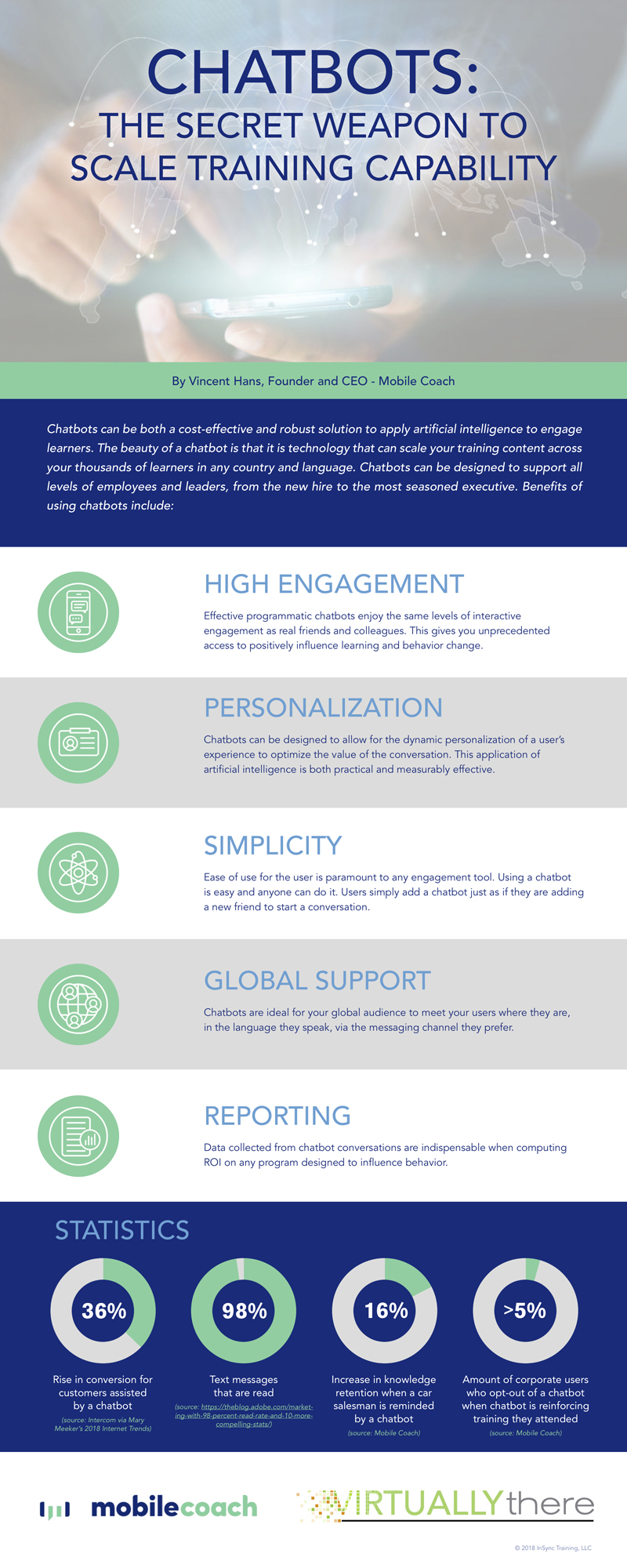 If you'd like to add this infographic to your website use the code below to embed the image. Please include attribution to Mobile Coach and InSync Training.
About InSync Training:
InSync Training equips and enables training professionals to succeed in the virtual and blended learning environment.  Jennifer Hofmann and her team define, model, and teach modern learning best practices. Learn their proven approaches during accredited, comprehensive virtual classroom training programs. Have the ability to leverage InSync's production, instructional design, project management, or facilitation services for the most effective training initiatives.
About Mobile Coach:
The Mobile Coach Platform is designed for enterprises to create programmatic chatbots that feel valuable to your employees and customers to influence the right behaviors. In our first 4 years of working with clients, we've helped develop more than 500 chatbots that coach people on every topic from getting healthy and losing weight to becoming a more effective executive leader. We invite you to get to know our talented team of chatbot writers as well as check out a demo of our powerful, yet easy-to-use platform – https://mobilecoach.com.