Workflow Learning & Chatbots
The most common chatbot use case is that of customer service where consumers can get instant answers to their questions without having to call customer service. When organizations take this customer service approach and apply it to employee workflow learning, what emerges is a powerful tool that enables employees to be much more successful in their jobs.
Provide Instant Support with a Chatbot
When the Covid-19 pandemic struck, many corporations were forced to embrace "work from home" policies. This led to the widespread adoption of virtual collaboration platforms. Platforms like Microsoft Teams and Slack saw huge adoption during this period. Teams users grew from 20 million users in November 2019 to 75 million users in just six months!
Now, with millions of corporate workers consistently relying on these platforms, there is the fortuitous benefit of easily engaging with them via a chatbot. A chatbot can be installed in an organization's Teams environment to deliver a user experience that's literally just as easy as messaging a fellow colleague. There is no need for the nuisance of a separate login to get resources. Instead you can simply be where your learners already are.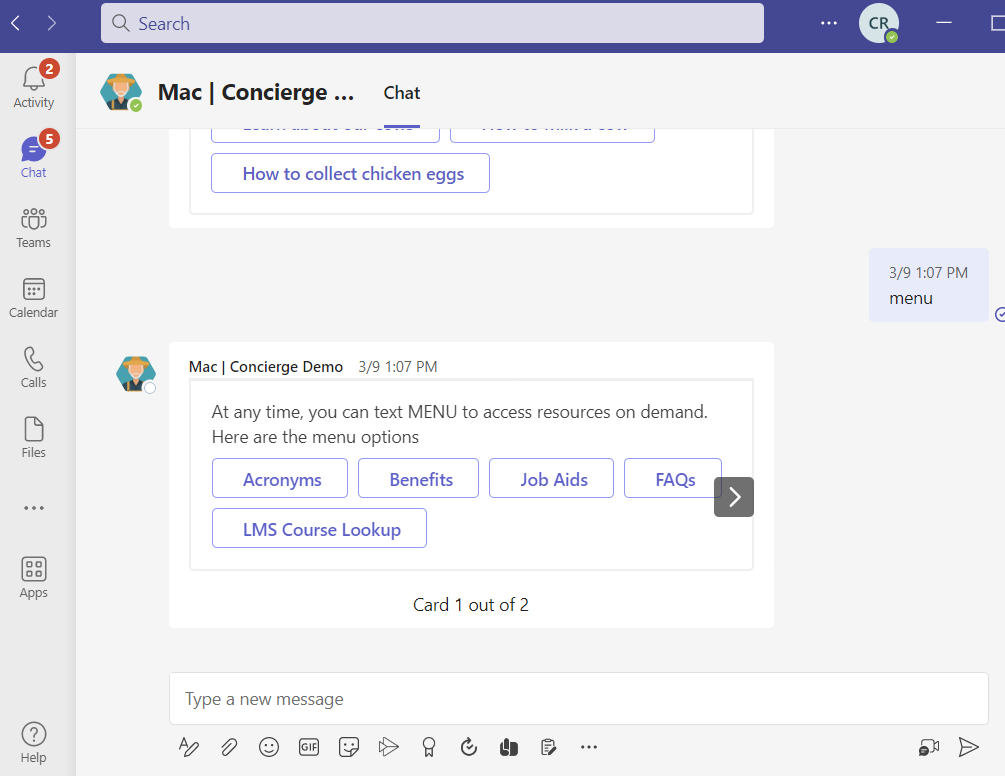 Chatbots have all the advantages of advanced automation as they never sleep and don't need rest. A chatbot is available 24/7, is able to speak in multiple languages and can be programmed to answer questions immediately, as well as push out valuable reminders. This type of value can greatly aid your HR and Learning & Development teams in better scaling their reach to support your entire company. 
A fast-trending idea among learning and development professionals in recent years is the concept of supporting workers in the "flow of work," sometimes described as "workflow learning." This term is in pointed contrast with traditional learning models. Typically, employees would stop their regular routines to attend an in-person, formal training or perhaps watch an online e-learning course. Rather than stopping all core work activities, "workflow learning" supports the idea of delivering the information someone needs to do their job while on the job.
The Challenge with Workflow Learning
The range of resources to make workflow learning effective is as diverse as the types of jobs that exist in the world. And one of the challenges of learning within the flow of work is making this help be easily accessible. Too often, access to job aids and knowledge bases require too many steps. There may be multiple clicks and logins to multiple sites that results in woefully underutiliztion. The irony here is that the effort to access the resources to help with workflow learning requires too much disruption to their workflow! 
This is where a chatbot can truly excel. A chatbot is accessible where the user is already interacting with other colleagues. And depending on the employee, that might mean Microsoft Teams, Slack, WhatsApp, SMS or as a web widget on their primary web-based application.
On-Demand Answers and Timely Nudges
What kind of help can a chatbot deliver at a user's request? Here are just some ideas to consider:
Acronyms – responds with the meaning of any acronym used in your company 

Job aids – delivers "how-to" job aids based on a user's question 

Knowledge base articles – provides longer form answers to more in-depth questions

Courses in a Learning Management System – suggests courses for the user to take 

Access to an expert – connects a user with an expert based on the specific issue the user is struggling with

Answers to HR questions – assists the user with HR-related issues such as benefits or policy questions which can also be handled anonymously for more sensitive topics
The other powerful modality of a chatbot is that you can "push" messages to the user. To better guide and lead your people program the chatbot to pro-actively send the following types of messages:
Reminders – program nudges and reminders to reinforce training the user has participated in.

Quizzes – test user's knowledge by sending them impromptu quizzes.

Surveys – a more effective way than web-based surveys to ask a user for their feedback.

Coaching and accountability – accountability messages to help hold users accountable to goals and deadlines.

News and announcements – reach users more effectively by having the chatbot send out urgent and time-sensitive communications.
Curious what this user experience is like? Try out our learning concierge demo ​​on:
Because users rely on chatbots when they need help, the data the chatbot can collect for your organization is extremely valuable.  You suddenly gain insight on what topics are most requested, when and by whom. This insight can help you prioritize addressing the major gaps your workforce is facing. 
Additionally, a chatbot can be leveraged as a natural survey tool. You can program your chatbot to proactively reach out and survey your workforce from time to time and collect real-time sentiment on how people are feeling.
How to Deliver the Best Experience
Because a chatbot can be designed to do so many things, it is wise for any chatbot designer to follow design best practices to ensure you create the best workflow learning for employees:
Start small and build as you go. Lean into building a great knowledge base based on the most common employee questions and issues and then build from there. 

Watch user data carefully. See what resources employees are most searching for and what types of questions they are asking that you didn't anticipate. 

Be careful not to over program the "push" messages. There is a fine line between helpful and overwhelming. 

Consider programming your chatbot to let users set personal preferences. For example, ask users how many push messages they'll accept or what time of day works best for them to receive these messages. 
It won't take much to optimize your performance support chatbot and you'll marvel at the good that it can do as well as how much it can help you better understand the needs of your workforce.
What's Next? How to Build Your Chatbot
Now the only thing standing between your employees and instant support is building the chatbot! The Mobile Coach Platform is the most robust chatbot platform to be able to design and deploy an enterprise-grade chatbot that can answer learner questions, send scheduled nudges and be easily integrated into one of 15 messaging channels like Microsoft Teams, Slack, WhatsApp, SMS, etc.
Learn how Mobile Coach chatbots will help you drive real engagement with your audience to achieve the key behaviors and results you want.