For microlearning to be truly effective, you need a platform to reach and engage your learners consistently. Chatbots that are installed into existing collaboration platforms like Microsoft Teams and Slack are a compelling way to deliver the promise of microlearning. Chatbots make things easy for a learner as they don't need to log in to a separate app or learning platform. Instead, they can engage in a short lesson right where they are. When it comes to truly engage the learner, chatbots can be programmed to have fun and have a deferential personality. These personable features can soften the annoyance of the interruption that learning invitations cause. Additionally, chatbots can be personalized to custom fit the learning activity for each learner's context.
A chatbot is a computer program designed to simulate conversation with human users. New chatbot technology has been adopted by industries all over the world for a variety of use cases. In fact, you've probably interacted with many chatbots in your normal life. These automated conversations can be used to answer questions, direct you to information, remind you of an appointment, or even coach you to success.
Why use a chatbot for learning?
Easy and accessible: The Chatbot lives where users are ready are.
More engaging: 

because it's conversational interaction, you can engage that user over time; program interactive triggers like nudges; send links, images and videos etc.

Easy to deploy and manage: with a chatbot you can do all really interesting analytics to measure engagement. For example, who's engaged with the chatbot? Who's answering questions? How fast are they answering the question?
"Short, easy to access and consume, nuggets of content."
"Everything we learn, all day long, in the process of living our lives. It can be formal or informal"
"Single topic, less than 5 minutes"
"Like a snack instead of a meal."
"Microlearning, as described by Simply Success Institute, is learning in sips as opposed to gulps"
Chatbot Microlearning Modalities
Formal, scheduled lesson modules

– This modality contains spaced learning modules with interactive messages sent on a set schedule or a schedule determined by the learner. Activities can be recorded and stored in an LMS.

Informal nudges and reminders about material already learned

– Keep training alive after a more formal learning event with messages written as reminders. A great additional application is using the chatbot as a survey tool.

Performance support for on-demand learning

– Allow learners to access learning when they need it with short self-accessed learning modules. Due to the flow of work of a learner, this use case should live on the most accessible messaging channel and have a menu-driven user experience. 

Combo user experience ("the concierge")

– A combination of scheduled messages and on-demand performance support. This "always on" chatbot design gives you the flexibility to introduce new topics over time.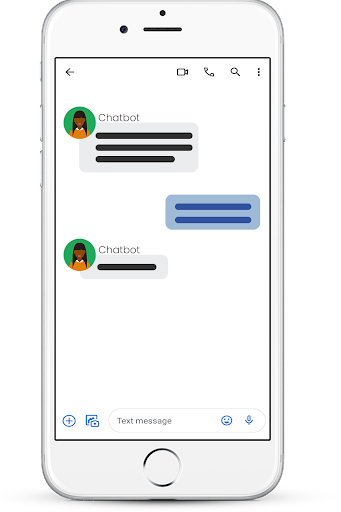 In the webinar below, Vince Han walks through some of the crucial steps of building a microlearning chatbot. If you'd like to learn more you can schedule time with a Mobile Coach chatbot expert.
Learn how Mobile Coach chatbots will help you drive real engagement with your audience to achieve the key behaviors and results you want.