Vince is an industry thought-leader for learning and learning technology and speaks often about artificial intelligence and chatbot technology.
Vince Han is the founder and CEO of Mobile Coach and a frequent speaker at conferences such as Training Conference, DevLearn, Learning Solutions, Masie's Learning Conference, ATD ICE, ATD Techknowledge and others. He holds an MBA from the MIT Sloan School of Management.  Vince has founded several successful technology companies and resides in Utah.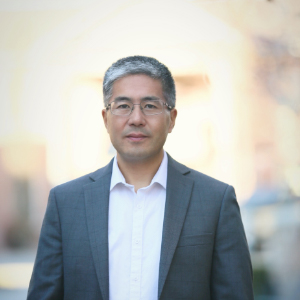 "I've had the privilege of collaborating with Vince on the topic of chatbots, particularly how chatbots can facilitate learning. Vince is an industry leading expert in chatbots, the technology that powers chatbots and the design techniques that make chatbots successful. And behind his brain, he is articulate and thoughtful, thus making him an ideal resource for anyone wanting to better understand this exciting innovative technology."
"I could have listened to the speaker forever! One hour was not enough!"
"Information was presented in a way a less technical person could understand. I can see so many use cases."
"Great examples and scenarios. I learned a ton about the possibilities"
"Engaging speaker and really interesting topic"
VINCE HAN'S PRESENTATIONS
Training Industry, "Chatbots an Innovative Tool for Learning Engagement"
https://trainingindustry.com/articles/learning-technologies/chatbots-an-innovative-tool-for-learner-engagement/
#IDIODC Podcast, "Chatbots for Learning with Slack and Teams"
https://podcasts.apple.com/us/podcast/chatbots-for-learning-with-slack-and-teams-with-vince-han/id1373342716?i=1000534712988&l=es
The eLearning Coach Podcast, "How Chatbots Can Support and Enhance Learning"
https://www.listennotes.com/podcasts/the-elearning/elc-059-how-chatbots-can-oc8p3Ov9UDk/
Upside Learning Podcast, "Chatbots in Workplace Learning & Performance"
https://youtu.be/o6k9F8E31E8https
Reaching the UML Podcast
https://podcasts.apple.com/us/podcast/episode-4-with-vince-han-of-mobile-coach/id1135238520?i=1000374071756
CTRL Your Destiny Postcast, "Why chatbots are useful. The top 5 chatbot use cases for direct selling with Vince Han"
https://podcasts.apple.com/us/podcast/directscale-webinar-series-why-chatbots-are-useful/id1535086235?i=1000528281461
ATD article, "You Had Me at Hello"
https://www.td.org/magazines/td-magazine/you-had-me-at-hello 
Podcast with Sprout Labs
https://www.sproutlabs.com.au/blog/chatbots-for-learning/
"Make Training Stick" Webinar
https://www.youtube.com/watch?v=axtC8VoyT_g
Learning Solutions article, "How Chatbots Make Training Stick"
https://learningsolutionsmag.com/articles/2197/a-mobile-coach-can-help-elearning-stick
The World of Direct Selling article, "How Tech Will Disrupt Direct Selling"
https://www.worldofdirectselling.com/technology-disrupts-direct-selling/
ATD article, "Are Chatbots the Future of Training?"
https://www.td.org/magazines/td-magazine/are-chatbots-the-future-of-training
Training Industry article, "Using Chatbots in Corporate Training"
https://trainingindustry.com/articles/learning-technologies/our-digital-friends-using-chatbots-in-corporate-training/
SHRM article, "Are Chatbots the Future of Training?"
https://www.shrm.org/resourcesandtools/hr-topics/technology/pages/are-chatbots-the-future-of-training.aspx
Learning Solutions article, "What is a Chatbot?"
https://learningsolutionsmag.com/articles/2231/what-is-a-chatbot
The Selling Podcast, "USING TECHNOLOGY TO DRIVE SALES WITH VINCE HAN,"
https://www.audible.com/pd/USING-TECHNOLOGY-TO-DRIVE-SALES-WITH-VINCE-HAN-CEO-of-MOBILECOACH-Podcast/B08K7VK15X