While we look forward with great excitement to the growth and developments we have planned for 2019, we want to take a moment and look back at 2018 and the innovative new chatbot features we've added to the Mobile Coach chatbot platform. Each year, we look to make chatbot authoring both easier and more robust, but most importantly, we work to ensure that the chatbots you envision for your business do their job!
Web widget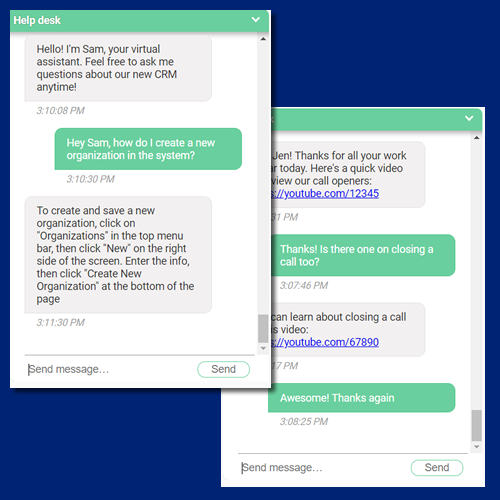 While "mobile" is in our name, we were excited to announce the addition of non-mobile chatbots using our web widget. Prior to 2018, our chatbots engaged with users on their mobile devices through SMS and other mobile messaging platforms. Our web widget allows your chatbot to sit on top of a webpage to answer questions and engage users.
These web-based chatbots are great in situations where mobile is not the ideal. Many organizations have "no mobile phone" policies that make a mobile-based chatbots for learning ineffective. In addition, our web widget is the ideal tool to answer customer questions on your website.
Our web widget makes adding your chatbot to a website easy: just add a single line of html code to your webpage and the chat window appears, ready to go. Our powerful authoring platform allows you to easily customize the color, theme, and auto pop-up logic for your web chat window. Most importantly, you still leverage Mobile Coach's platform to enable your chatbot to intelligently interact with your users about the topics you choose.
Video feedback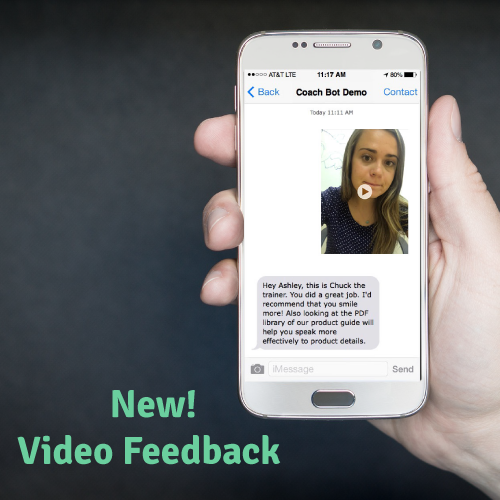 When you stop and think about them, smartphones are pretty amazing. We are walking around with a device in our purses or pockets that is, among other things: an internet-enabled computer, a calculator, planner, phone, pager, camera and camcorder all-in-one.
We were happy to announce earlier this year our new Video Feedback feature that takes advantage of the video capability in our pockets. This new feature really leverages the power of the chatbot platform with the power of the smartphone to incorporate video feedback within a chatbot.
Video feedback enables a learner, such as a sales person or someone working on a new soft skill, to demonstrate a skill or their understanding of a topic by recording a video, uploading it, then receiving feedback on that recording all within the chatbot.
LearnBot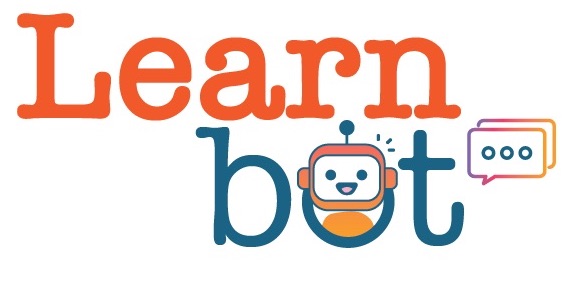 Introduced in the fall of 2018, LearnBot debuted as the official chatbot of Masie's Learning 2018 conference. Designed in collaboration with MASIE Productions, LearnBot debuted exciting new features for our chatbots including:
Public notebook that curated attendees notes, thoughts, and images for each session and made them public to other attendees

The ability to make real-time suggestions on sessions based on trends happening at the conference
As a powerful learning tool, LearnBot helped attendees get the most out of their Learning 2018 experience, as well as give people a great hands-on example of what chatbots can do.
The features developed and the lessons learned with LearnBot can be included in a variety of other chatbot applications. Additionally, we can develop a similar event bot for your event.
Smart web pages
Mobile Coach Smart Web Pages is a new, powerful addition to our platform where a web page can be made aware when a user is finished consuming content on the page and can let the chatbot know to re-engage in the conversation!
Chatbots can deliver training in a unique, interactive, one-to-one way. One innate limitation with a chatbot, however, is the constraint of 160 characters (for SMS) or the user interface of a chat bubble. Sometimes you want to more. For example, you may want to engage users with a video, an image, or maybe even  an interactive webform. With Smart Web pages, you can do all of that and more.
Smart Web Pages allows us to overcome the limitations of text conversation, and engage users outside of the chatbot interface. Then, when the activity is done, the Smart Web Page lets us re-engage the user with the chatbot.
Other tidbits
Some other highlights of platform enhancements and improvements in 2018 include:
GDPR compliance

Two more messaging channels – Viber and VK

Native URL shortener along with a new Links report to see click-through rates

Dynamic custom badge creation for employee and sales team recognition

And much more…too many to list here!
All of these advancements in the Mobile Coach Platform keep us at the lead of chatbot innovation. As we start 2019, we look forward to another year with innovations that make our platform even simpler to use, faster to deploy chatbots, and better for engaging users.
If you'd like to see a demo of any of these features click here to request a demo or email us at sales@mobilecoach.com.