Mobile Coach in London!
Mobile Coach is excited to announce that for the first time we will be attending Learning Technologies Conference and Exposition this February in London.
Housed in its new home, Excel London, Learning Technologies runs from February 13th through the 14th. The event will feature more than 70 of the industry's top speakers and practitioners as part of the conference, and over 200 exhibitors showing off the latest in learning innovations—from technology to best practices.  
---
"We're thrilled to be attending Learning Technologies this year. Our chatbot platform is a perfect fit for this conference, where industry leaders are looking to find ways to improve workplace learning." – Casey Sullivan, Director of Marketing
---
At booth P42, Mobile Coach will be showcasing our latest chatbot technologies including popular features such as leaderboards, video feedback, and smart web pages. These features augment our custom-built chatbots and help ensure high levels of engagement with learners.
Used in a variety of use cases to deliver and reinforce learning, chatbots have become a core component of many companies' learning and training strategy. Popular use cases among Mobile Coach clients include:
New Employee Onboarding

Performance Support

Soft Skill Training

Safety and Compliance Training

Sales Enablement

Leadership Training
Attendees that visit us at booth P42 can receive a personalized demo of the platform, experiencing both the end user interactions as well as the administrative and authoring side of the platform. 
Booth info
Booth: P42
Expo hall hours are February 13th and 14th from 9 am to 5 pm both days.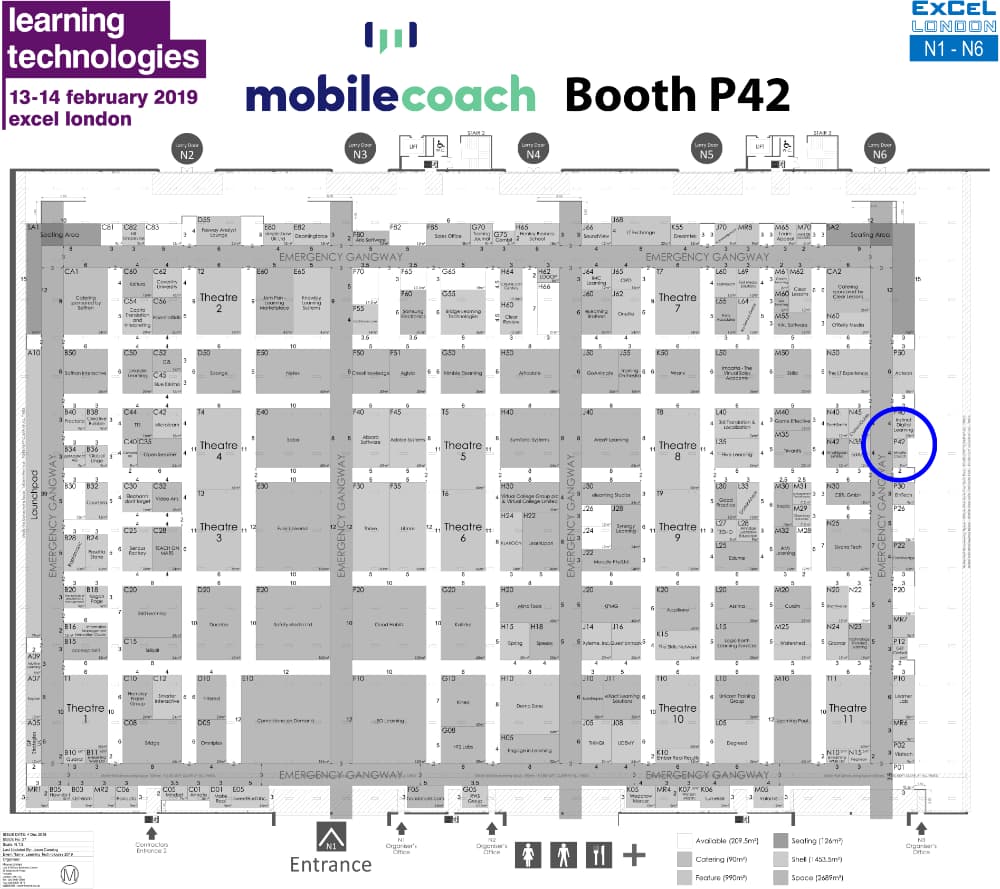 Session recommendations
13-Feb-2019 | 11:15 – 12:25 | Conference Room 1
T1S1 – Emerging technologies
In this exciting session we'll explore both the art of the possible and the emerging learning technology of tomorrow, while keeping one foot in reality as we look at what can be used today for impact.
Glimpse the latest new technologies being used in learning

Understand the broader tech trends that could lend themselves to learning in the future

See how learning technologies are changing

Recognise the organisational drivers behind the adoption of new tech trends

Be inspired by what's next in L&D technologies
Steve Wheeler, Learning Innovations Consultant – Steve Wheeler Associates Limited
Dani Johnson, Co-founder, Principal Analyst – RedThread Research
David Kelly, Executive Director – The eLearning Guild
---
14-Feb-2019 | 11:15 – 12:25 | Conference Room 1
T1S4 – Future learning
This session will focus on how artificial intelligence is driving a massive transformation in how employers drive personalization of the learning experience and align performance management to learning in the flow of working.
How Artificial Intelligence is creating a more 'human and personal' learning experience
The key metrics select companies are using as they personalize the learning experience with AI
The new roles needed in the L&D department to put Artificial Intelligence to work
Real-world examples of AI in use, today
How the use of AI will extend across HR and the enterprise
David Kelly, Executive Director – The eLearning Guild
Jeanne Meister, Founding Partner – Future Workplace
About Mobile Coach
Mobile Coach is the leading chatbot management platform for the enterprise. Our platform enables the rapid authoring, configuring, and deployment of chatbots to deliver and reinforce training and learning programs. With more than 5 years of experience in developing chatbots, Mobile Coach is the most advanced platform with features specifically developed to serve the Learning and Talent Development industry.
Mobile Coach chatbots engage with learners to continue conversations long after employee training has ended. By engaging employees with simple, periodic messages, Mobile Coach chatbots reinforce skills and knowledge employees would otherwise forget. The benefit to corporate is a scalable solution for post-training engagement and measurable accountability.
About event
Learning Technologies is Europe's leading showcase of organisational learning and the technology used to support learning at work. With more 150 L&D seminars and an exhibition hall packed with the latest learning technologies and innovations, it provides a unique and exciting environment for all those involved in workplace learning.
In 2019, the show moves to its new home, Excel London where there will be even more to see and do at the biggest show in the entire learning sector. It's also the best attended and fastest growing!