L&D teams find learner assistants a challenge as they try to break through the mountain of incoming information any employee faces. Countless emails, memos and app notifications all fight for employee attention. And, ironically, when an employee proactively wants to find help from available L&D resources, often there are too many steps for getting the result. For instance, trying to remember how to access the LMS or trying to remember a resource name that creates enough friction to have the employee too easily give up their search. There needs to be a more frictionless way. Learners need both reminders and engagment on important information as well as delivery of easily accessible on-demand help when they requests it.
Chatbots have become a universal tool to provide customer assistance. Why not apply this instant, on-demand, smart technology to the support of learners in the workplace? New employees entering the workforce expect a single-click solution to questions and chatbots on platforms like MS Teams or Slack are an ideal solution. 
Learner Asistant Use Case for Learners
Technical help: Answer these often repetitive questions instantly to prevent learners from spending extra time on easy fixes

Learning journys: Sometimes it can be difficult to know how to find or choose a course amidst all the options. A chatbot can ask questions and guid learners to the right courses.

Performance support: When you need a quick reminder about a model or a job aid it can be frustrating to need to go searching for it. With a chatbot all you need to do it ask and it can deliver the resource right away

Collaboration: A chatbot can also be a great way to collect feedback and ideas from learners.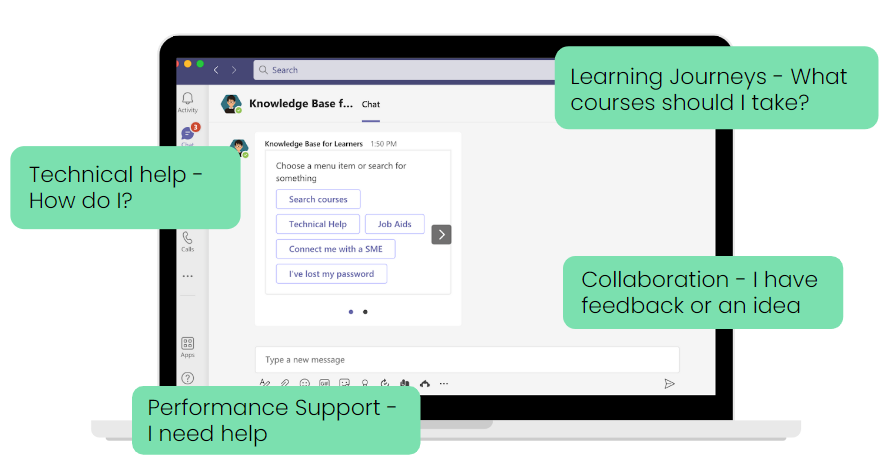 Frictionless

One-stop shop

Conversational UI enables for seamless human intervention

Better engagement yields better analytics
What features can you think of that would be helpful for your learners?

" The nice thing about chat boxes, you can come up with ideas, you can add buttons and you can make it very iterative."

What a Project Looks Like?

Identify and Organize your content

Connect content with a chatbot

Design chatbot menus and functions
Steps to Design Chatbot for Learner Assistance
Menus Help with Navigation.


Based on common requests of learners create menus and sub-menus using buttons for better navigation

Displaying KB Content:


Use links to articles, videos, or other types of content that are limited by a message bubble.
Create brief synopsis that is message bubble friendly and then links to an existing article.
Data dump the content into the message bubble.

Include Human Intervention.
One of the big values of chatbots is that it's automated.  Chatbots never sleep and they can handle thousands of conversations simultaneously. However, there are times when human intervention is needed. For example, when a chatbot does not understand a request of a learner and they need some expert support. Give learners an easy way to reach a human.


When to Employ NLP?
Programmatic chatbots don't have to use NLP. It is designed for extreme user volumes and with very deep content libraries. Otherwise, NLP is not effective and too expensive to set up and maintain.


Reporting Drives Improvement.


Quantitative and Qualitative data coupled with design iterations will quickly get you to an optimal user experience.

Make Your Own Acronym Bot
Learn how Mobile Coach chatbots will help you drive real engagement with your audience to achieve the key behaviors and results you want.