COVID 19 has forced businesses to find new ways to operate. And things like professional development had to initially take a back seat as businesses scrambled to adjust to a new world.
As the dust starts to settle, the focus is coming back to how we help our people progress and develop in a remote working environment. Chatbots can be an essential part of a technology strategy to help businesses develop their leaders and team members.
Taylor the Leadership Development Remote Event Chatbot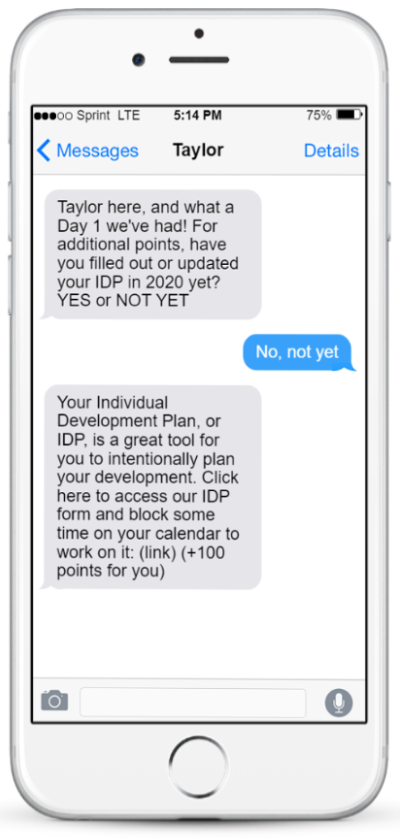 In August 2020, a major healthcare organization decided to utilize a chatbot to communicate with participants during their very first virtual leadership training event.
The purpose of the chatbot, named Taylor the Travel Guide, was to help participants plan their leadership development "journey," as well as provide reminders of important events and gather user feedback. The chatbot also encouraged participation in the many learning sessions throughout the week.
Before the week-long virtual conference, Taylor sent reminders and registration links to help participants plan which sessions to attend. Then during the conference week, Taylor sent daily updates and check-ins about major themes.
The experience was also gamified: participants were awarded points – tracked on a leaderboard – for answering the chatbot's questions, and they could text in keywords during sessions to unlock additional learning content and bonus points.
Top point earners had a chance to win a personal development coach or a meet and greet with their President and CEO. Following the week-long event, Taylor followed up with participants for the next two weeks to help them focus on new behaviors and get feedback on their progress.
Results and Feedback
1,050 participants engaged with Taylor the Travel Guide
Users responded 58% of the time
47% of users chose an action to take based on the training
Participants appreciated the chatbot, voiced with comments like: "You're amazing Taylor!!" "Thanks for the encouragement" and "Thanks for the reminders!!"
Try it Yourself
SMS

US: Say Hi to (260) 264-8043
CA: Say Hi to (289) 276-1204

Click here for Microsoft Teams and say Hi
Click here for web widget
Learn More
Subscribe to our newsletter for updates and news about the Mobile Coach platform, chatbots, as well as other industry news and thought leadership.
Learn about other sample use cases including: