Impressive results
Coach Alba is a proven SMS chatbot solution for weight loss client and health coach success.
Nearly 100,000 people have lost more than 1.6 million pounds using Coach Alba in conjunction with their weight loss program
92% of users regularly text Coach Alba their weight
93% of users stick with the Coach Alba texting program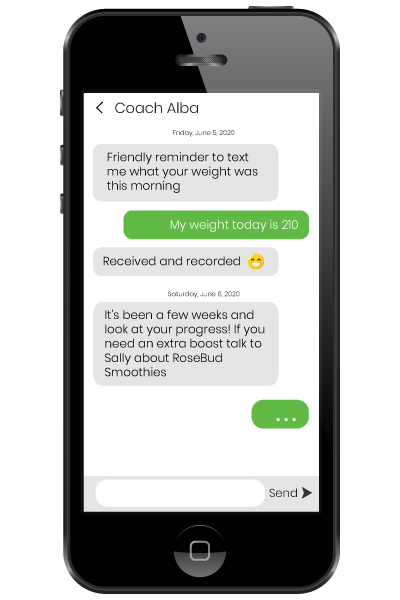 Health coaches work hard to help their clients meet their goals. The truth of the matter is that for most Americans, weight loss is really hard – physically and mentally. People look to health coaches for guidance, support and accountability. But even the most diligent health coach cannot realistically be with their client 24 hours a day!
Introducing Coach Alba – an SMS based chatbot that helps clients and their health coaches get the most out of their weight loss program.
Easy to Use
Clients use SMS to text their weight to Coach Alba every day
If they forget, Coach Alba send them a gentle reminder
Health coaches receive daily updates via email to better track client progress
You can also customize Coach Alba to include your own tips and marketing messages