Chatbot Sally and Free Mobile Coach Swag
Some of the brightest minds at Mobile Coach have created a new personality quiz chatbot named Sally. First introduced to the public at DevLearn 2018, Sally asks a series of five questions. She then uses the information from those answers to pair you with a free Mobile Coach hat that best matches your personality! This sophisticated, highly scientific personality quiz didn't develop itself. Emma Mason, the lead chatbot designer who developed Sally, gave us some insight into the creation process.
"These miniature personality quizzes are designed to be a quick, interesting way to show how chatbots interact with users. We came up with just over 80 questions that pose a choice  between two options, usually opposites—like cats or dogs. Every answer was then matched up with a hat color. Tan hats are 'thrilling' while blue hats are 'sweet'. In each quiz, a user is asked five of these questions, and then told if they are a blue hat or tan hat person."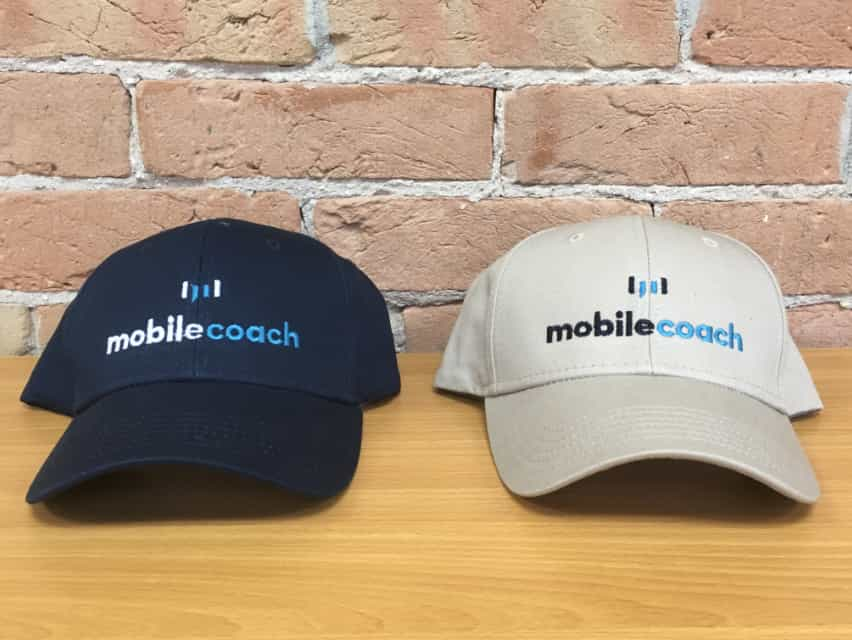 Other fun questions from Chatbot Sally include:
Star Wars or Star Trek

Night or Day

Salty or Sour

Road trips or Flying

Shoes or Sandals
These types of questions seem fun and easy, but quickly can become difficult when you have to decide between two things you like—or hate! Many attendees agonized over a choice or two.
---
"Our goal was to design a chatbot to give out free hats, but we ended up with a chatbot that created existential crises." -Emma Mason, chatbot designer
---
Chatbots and quizzes both perform best when they engage the user. We found that the more internally divisive the questions were in our office, the better they would be for this personality quizzing chatbot. Emma's favorite question is "Nuclear families or nuclear bombs" although she did decline to give her preference for the interview. During DevLearn, an actual nuclear scientist was matched up with the same question, and was convinced that Chatbot Sally knew more than she was letting on. But don't worry, our bots aren't that smart…yet!
We gather information on answers and results. Like all our chatbots, Sally is able to provide us with valuable metadata. Mobile Coach is able to track all responses given as well as calculate the percentage of people matched up with both tan and blue hats.
What hat color are you? Come by the Mobile Coach booth to find out!
Want to learn more about chatbots? Click here to learn more.