Join Mobile Coach at DevLearn 2018
Mobile Coach CEO, Vince Han, will be presenting a cant'-miss, interactive session on chatbots at DevLearn. Join Vince and some of the Mobile Coach team for this session on Thursday, October 25th at 3 pm. 
Vince's Session:
Session #614 – Using Chatbots to Scale Training Resources
October 25, 2018 from 3:00 – 4:00 pm
About the session:
Training teams are too commonly asked to do more than their resources allow. Training executives are left scrambling to tackle the challenge of servicing a complex organization with learners spanning different geographies, job functions, and development needs. While the recent investment boom in learning technologies has started to scale capacity, it still can feel like it's not enough, leaving training executives searching for better solutions.
In this session, you'll learn how chatbots can be an effective platform to scale training resources. Chatbots can be both a cost-effective and robust solution to engage learners in any country and language, and can support all levels of employees and leaders. You'll learn how you can design a chatbot to be both a performance support tool (providing on-demand job aids) as well as a virtual facilitator and coach (ensuring knowledge transference and learning accountability).
In this session, you will learn:
What a chatbot is

About common uses for chatbots in training

From case study data showing engagement rates among different learner groups

About different chatbot authoring and design options in the market

When to choose a chatbot versus a mobile app

How a chatbot can deep link into existing learning resources
Audience:
Designers, developers, managers, and senior leaders (directors, VP, CLO, executive, etc.).
Technology discussed in this session:
Facebook Messenger, Telegram, LINE, WeChat, and SMS.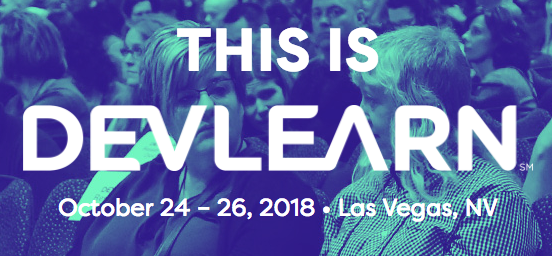 Expo Hall:
While at DevLearn, don't forget to come and hang out with the Mobile Coach team at Booth: #904. 
Make sure you try out our new touch screen chatbot demo and win a FREE Mobile Coach hat and get your passport stamped!
Other interesting speaking sessions:
"Learning Games: Aligning Game Elements and Learning Objectives"
Keith Sensing, Reggie Jose- October 24, 2018 at 10:45am
"Creating an Instructionally Sound Microlearning Experience"
Carla Torgerson- October 24, 2018 at 1:15pm
"Five components for Measuring the Impact of Learning"
Rose Benedicks- October 25, 2018 at 1:15pm
"Creating Mobile Learning in Top Authoring Tools"
Jennifer Bertram, Kathryn Steele- October 26, 2018 at 8:30pm
---
About DevLearn:
You've seen L&D conferences before, but not like this. This is not just a conference; DevLearn is the place we unearth what's next for learning and technology. It's the experience that allows us to advance the work we're doing—together. North America's Largest Learning Technologies Expo; DevLearn's expo is where you'll find the top eLearning tools, technologies, companies, and services built to serve your organization and shape the future of learning.
About Mobile Coach:
The Mobile Coach Platform is designed for enterprises to create programmatic chatbots that feel valuable to your employees and customers to influence the right behaviors. In our first 4 years of working with clients, we've helped develop more than 500 chatbots that coach people on every topic from getting healthy and losing weight to becoming a more effective executive leader. We invite you to get to know our talented team of chatbot writers as well as check out a demo of our powerful, yet easy-to-use platform- https://mobilecoach.com