A new hire chatbot can support a more successful onboarding experience which will result in reduced turnover. The Brandon Hall Group found that "a strong onboarding process improves new hire retention by 82% and productivity by over 70%." In the midst of the "Great Resignation" now is the time, more than ever, to focus on creating a more effective onboarding experience.
A new hire chatbot can:
Answer questions instantly and anonymously even before the new hire's start date

Send tips and best practices to help the new hire successfully navigate their first days, weeks, and months

Ask the new hire how their faring and then Inform the new hire's supervisor immediately if there are issues to be addressed

Ensure the new hire keeps all necessary deadlines for HR-related administrative forms and actions
One of the barriers during the new hire experience is the overwhelming addition of new systems they have to get to know and keep track of. Consequently, each click and decision is an obstacle to getting to the content they are looking for. Chatbot can be really advantageous because:
They're frictionless: You can choose a channel your new hires will already be using. There is no extra resource to learn or to remember to log into
They scale: Keeping track of a new hire could be a full-time job. A chatbot however can be there 24/7 to answer questions and keep a new hire on track.
Akamai utilized a chatbot to solve challenges with their onboarding process.
Goals:
Reliably communicate with new hires

Scale and support new employees globally

Low barrier to entry

Unburden managers and mentors from constant communication requirements

Increase certification pass rate and do it faster
Design:
Communicates with new hires via SMS or the LINE app

Sends messages to remind, motivate, gather information, and check in on required key tasks

When a user asks a question, Avi passes it to the onboarding team who then respond through Avi
Results:
Are 58% more likely to complete their Technical Primer Certification

Finish their Technical Primer Certification in 20% less time

100% reported feeling confident with the concepts learned during Technical Primer Certification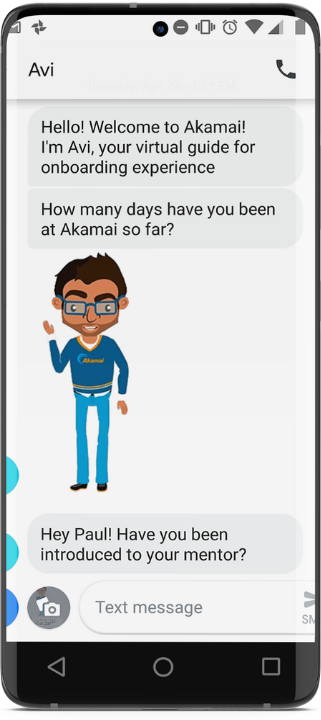 Key features of a new hire chatbot:
When asked what features of a new hire chatbot would be the most important for their new hires people suggested: 
Easy access to common questions
Redirective to a live person
Reminder of deadlines
Pre-start information 
Topics Your Chatbot Can Cover
While a new hire chatbot could cover any topic, these are the items that we at Mobile Coach have found to be the most important.
Corporate culture:

Did you know that we have a book club and other special interest groups? Check them out here: <link>

Best Practices

: We've surveyed our new hires in the past 2 years and here is a list of tips from those who have come before you! <link>

FAQs/Knowledge Base:

Hear an acronym you're unfamiliar with? We have a lot! You can ask me anytime what an acronym stands for

Administrative

: Remember to fill out your 401k enrollment by June 15th! Here is a link to the form along with instructions: <link>

Job Function:

Sales reps like yourself should attend a quarterly CRM training. Look out of the calendar invite

Employee Survey:

On a scale of 1-7, how satisfied are you with your first 2 weeks of work?
What a Project Looks Like:
When designing a chatbot project for new hires there are three key steps.
Step 1. Write your chatbot script. A chatbot is at it's essence a conversation. This step is the most important as it is the piece your new hires will experience.
Step 2. Configure the logic using Mobile Coach. Once you're designed a great conversational journey it's time to configure your chatbot in an authoring platform like the Mobile Coach Platform.
Step 3. Launch, Measure and Iterate. After the chatbot is configured and tested you're ready to launch! But it doesn't stop there. It's vital you measure the success of your chatbot and continue to iterate to better serve your new hires.
Interested in pitching this idea for your new hires? We've created this ROI formula you can use to create a business case. You can find more details here. 

Learn how Mobile Coach chatbots will help you drive real engagement with your audience to achieve the key behaviors and results you want.