ATD ICE is in Salt Lake City, UT this year and seeing as our headquarters are in Utah, I am thrilled that so many L&D professionals will be descending on our beautiful state. 
Utah is home to the country's most beautiful national parks and we would love to show a couple of them to you during your ATD trip!
We are organizing a 2-day trip after the conference concludes to Zion National Park and Bryce Canyon National Park.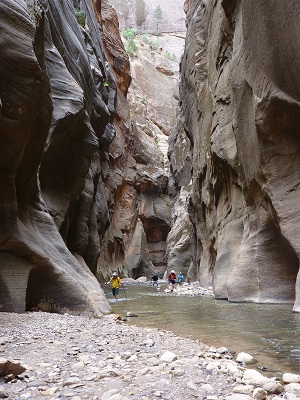 Leave SLC at 5pm and drive to Cedar City (sack dinner)
Sleep in hotel
Early wake-up call and drive to Zion National Park
Group 1: Hike the famous Subway Trail. This is backcountry and requires moderate level of fitness and the ability to hike 10 miles of rugged terrain and complete on 30′ rappel. (Limit to 12 people)
Group 2: Hike the Narrows. This can be done at a leisurely pace and whatever distance you are comfortable with. 
Group campsite where we will sleep in tents. Cots provided for those uncomfortable with sleeping on the ground. Campfire, stargazing, music, food and fun! 
Drive to Bryce Canyon National Park
There will be options for hikes to accommodate skill levels.
Return to SLC in the evening. Note: there can be a group that leaves on Friday morning if you need to get back and skip Bryce. 
You pay for your hotel, contribute gas, rental gear and food money and we'll take care of the rest. If you need gear like a tent, cot, sleeping bag, etc, we will prepare all of that for you. It'll be fairly inexpensive. We will also have a secure place where you can store you unneeded luggage during the trip. Just fill out this simple Google Form and we'll reach out to work out what gear and accommodations you need!