Highlights:
72% of senior executives reporting that improving field communication was a high priority
60% of these same executives report that their organization was not effective in their ability to digitally communicate
Biggest communication challenges include picking the right channel, resonating with everyone in a diverse field, and a lack of automation
---
Communication Challenges
Direct selling companies rely on being able to effectively communicate with their field. When a company is just starting out with a handful of early leaders, this is simple; company founders spend significant time developing and nurturing relationships, often with daily conversations with dozens of people.
It is an exciting phase as companies start to grow to the point where the company founders can no longer personally keep up with everyone in their field. This is when maintaining effective communications becomes a formidable challenge. What makes this so hard?
With an expanding field organization, you have the logistical complexities of geography, time zones, languages, and messaging preferences. Then there is the ever-growing volume of information you need to communicate, and often the information is dynamic and fast-changing.
In the spring of 2020, Mobile Coach conducted a survey of direct selling executives to gain an understanding of how companies are handling this mass communication challenge.
Priority of Communication
Most respondents recognize the importance of improving the way they communicate with 72% of senior executives reporting that improving field communication was a "somewhat high" to "very high" priority, with 28% reporting it as a "very high" priority (see figure 1).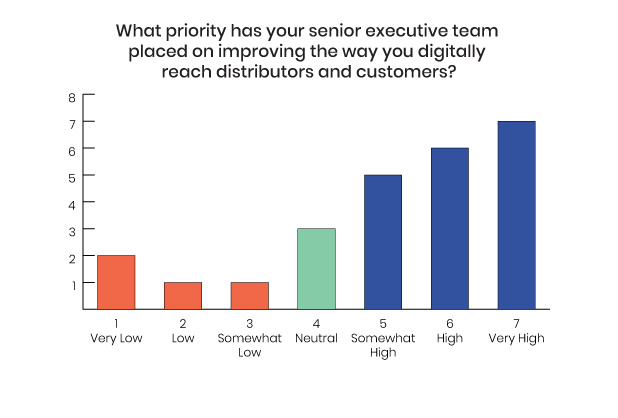 In contrast, we found that 40% of these same executives report that their organization was "somewhat ineffective" in their ability to digitally communicate, demonstrating a lack of confidence in current communication effectiveness (see figure 2).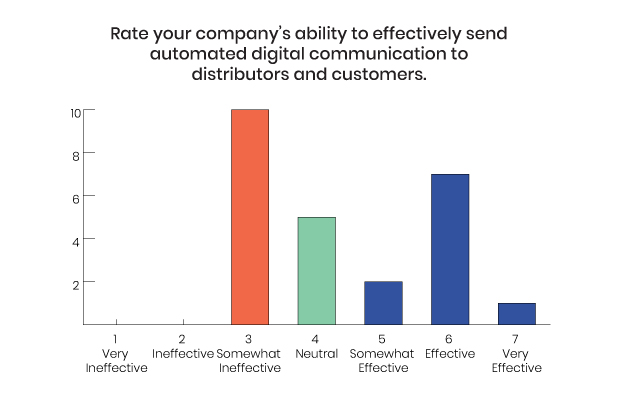 These two points suggest mass communication is an important area where improvement needs to be made. Attention and interest by senior executives are clearly focused on the need to communicate, but the current method, strategy, and/or tool is not working.
An inherent challenge with mass communication is finding a medium or channel that actually effectively reaches distributors. Email is well-known to be increasingly ineffective but so many of the mature tools available are still email-centric.
Channels of Communication
Our study found that the top three mediums for messaging were email (100%), SMS (60%), and Facebook (32%). Other channels were used, but at a much lower rate than those three (see figure 3).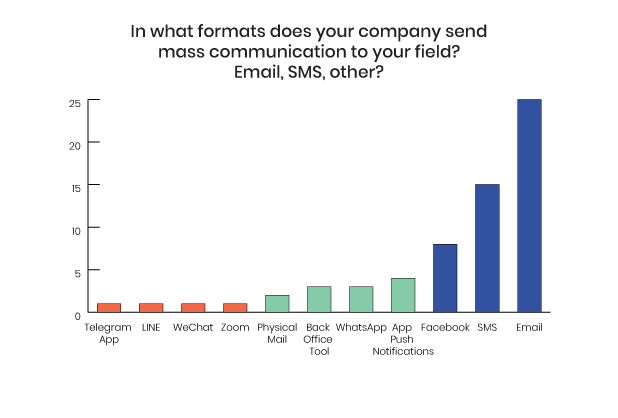 Achieving a strong communication competency can be expensive in multiple ways. Companies need staff with the skills to navigate the various technology platforms needed to manage these mass communications. Some platforms like Facebook are dynamic in that there are constant changes to the user interface, feature sets, and policies that require someone to stay on top of everything. Managing messaging opt-out preferences can also be a non-trivial challenge with liability consequences in many countries and jurisdictions.
Skills to Communicate
Further, strong writing skills are needed to create messages that resonate with recipients and feel personalized.
Our survey found that most organizations believe that they have the necessary skills to execute effective communications strategies with 60% of executives responding that they have the right skills in place (see figure 4).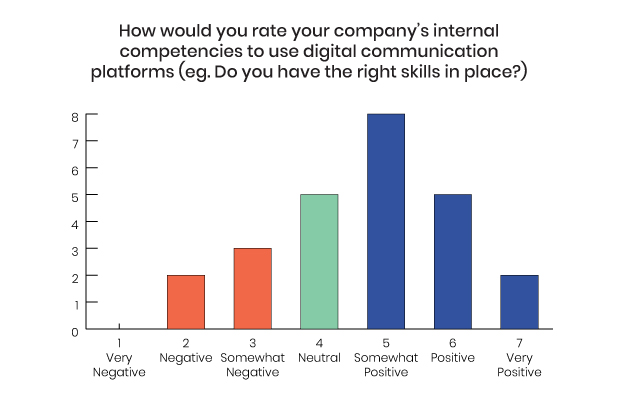 Challenges of Good Communication
To conclude the survey, we asked executives about the biggest challenges when communicating with the field. There were several common themes, including picking the right channel, resonating with everyone in a diverse field, and a lack of proper automation.
Many respondents mentioned the difficulty of selecting the right avenue to deliver communication. One response described the challenge of, "Cutting through [the] noise of too many communication vehicles that different people use". Another response addressed the challenge this way: "We, like everyone else, have a very low open rate for email. We do better with texts and they respond GREAT to social media." Across the responses, one thing became clear: how you deliver messages should depend heavily on what message you are delivering. One solution for one message may not work for another–even within the same company.
Both what you say and how you say it should resonate with your field, but how do you do that when your field is an incredibly diverse range of individuals? Several responses referenced demographics as a challenge for effective communication. One responder listed in their challenges, including, "The technical ability of a mature (older) sales force who does not do well with technology."
Reaching your desired audience could mean segmenting your audience and communicating with them in the ways that will be most effective for them. This may sound complicated but with automation, it can become much simpler. Many participants referenced automation as a challenge, but also a necessity. One responder phrased their challenge as a "Lack of segmentation and automation of the communication."
Summary
In summary, choosing the best channels of communication, tailoring messaging to each demographic, and incorporating effective marketing automation are the common themes that need to be addressed to achieve success in field communication. Thus, the need for a solid communication infrastructure and workflow is becoming increasingly important. This often means making an investment to evaluate both staff and tools to do this more effectively, including considering a marketing automation platform.
To learn more about using a chatbot as a marketing automation solution for direct sellers, visit Mobile Coach.
Learn how Mobile Coach' chatbot platform will help you drive real engagement with your audience to achieve the key behaviors and results you want.