Mobile Coach at ATD 2019
We are excited to announce that we will be attending the ATD 2019 International Conference and Exposition May 19-22 in Washington D.C! With 10,000+ Professionals, 400+ Speakers, 300+ Sessions, and 400+ Exhibitors it is the largest event for talent development professionals in the world. Even Oprah will be there! But don't worry about finding us amidst the chaos, here's a map: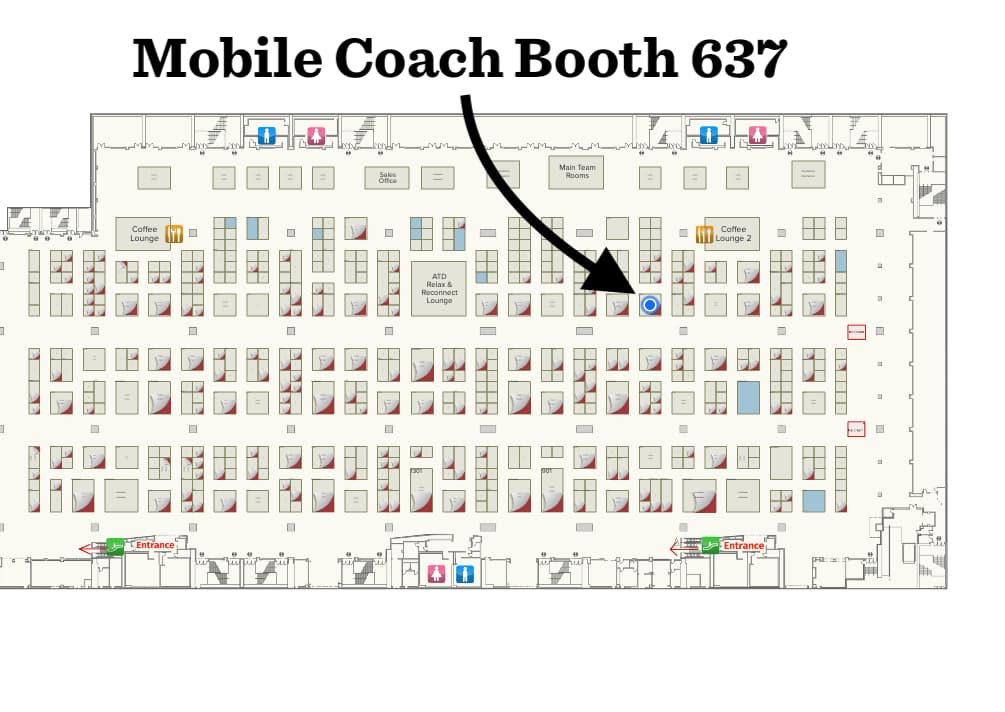 It sometimes seems that new technology solutions, strategies, and gadgets are released on a daily basis. In fact, technology is the fastest growing industry in the world, doubling in annual growth compared to nearly every other industry. The rate at which it is changing makes it difficult to stay up to date on the latest trends, but keeping up is important and essential for your business to function efficiently. Chances are your competitors are keeping up and you do not want to lag behind. Staying current will give you the competitive advantage.
The ATD Conference aims to help attendees "gain insights into the latest trends, best practices, and new solutions for designing, delivering, implementing, and measuring learning programs." Our chatbots for learning will bring attendees those same business solutions.
Our Booth
We will be exhibiting at booth 637 (the blue dot on that map). Come by to ask our senior chatbot designers for more information about chatbots and for a personalized demo of the platform.
Our Chatbot Designers have spent years mastering this emerging technology, and want to share what they've learned with you. Each hour, we will hold a 15-minute informative session in our booth where our chatbot designers will teach everything you need to know about chatbots and their implementations.
Attending a session will not only get you some great education, but also a rad Mobile Coach T-shirt that current proud owners have described as "the best & softest T shirt ever" and "my favorite T shirt."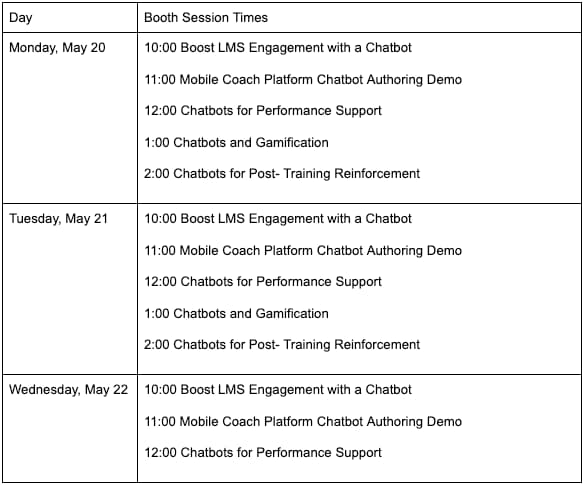 I can win a chatbot?
You heard it right! Leading up to the event and during the event, attendees and other exhibitors can participate in a CONTEST to WIN prizes including a complimentary chatbot project for your organization (1 year project for up to 100 learners), an iPad Pro, and $250 Amazon Gift Card. The #MCGame will include simple tasks such as attending sessions, posting pictures, and answering ATD trivia questions. Click here to learn all about it, and to sign up for updates as they become available.
Speaking Sessions
Mobile Coach CEO Vince Han will be speaking on Tuesday May 21 at 1:00 PM.
Beyond AI: The Real Value of Chat Bots
Tue, May 21 | 1:00 PM – 2:00 PM | Room: 156, Convention Center
Much of the hoopla surrounding chat bots is in the artificial intelligence (AI) that powers them. But their real value is not in the AI but in the frictionless user experience of the conversational interface that chat bots utilize. This is especially true when applying chat bots in a corporate learning environment. This session will examine this true value of chat bots to support learners.
But wait, there's more. Vince will also be speaking the next morning Wednesday May 22 at 8:15 AM.
Best Practices for Designing a Chat Bot for Learning
Wed, May 22 | 8:15 AM – 9:30 AM | Room: 103, Convention Center
The allure of chat bots has grown among L&D teams as the promise of artificial intelligence appeals to teams asked to do more with training their organizations. Yet, as with any emerging technology, the promise of "better and faster" can often fall flat, with glitches, unforeseen obstacles, and operational clumsiness. This session will cover the best practices of chat bot design, what works effectively, and what pitfalls to avoid.