Sales Enablement: Accelerating sales skills
Coach Top Gun SellFun is a chatbot designed by Freeman Company and Mobile Coach to improve the retention and implementation of sales strategies and techniques.
Coach Top Gun SellFun had a:

93.2% active rate
57% power user rate

Freeman saw an increase in Selling Fundamentals graduate success
Freeman trains their sales staff on the Freeman sales philosophy and methodology in a "Selling Fundamentals" course. When properly utilized, the principles of this training course help salespeople increase their sales, but often sales staff struggle to put those principles into practice.
Freeman needed a reinforcement strategy that would help their new salespeople apply proven techniques and skills in their day-to-day work environment.
Mobile Coach and Freeman collaborated to design "Coach Top Gun SellFun", a chatbot to improve the retention and implementation of the sales strategies and techniques taught in the "Selling Fundamentals" course.
Goals:
Ensure that sales staff better applied key sales concepts
Provided Freeman with data on how sales staff were using the skills to improve overall sales.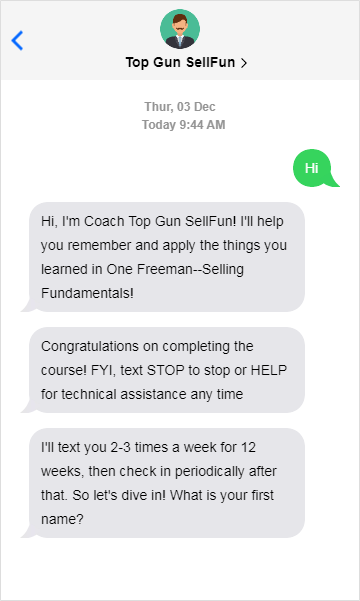 Graduates of the Sales Fundamentals course are enrolled in the chatbot "Coach Top Gun SellFun." 
The chatbot alternates each week between:
reviewing sales fundamental principles 
following up with specific exercises to practice
This design ensures both content review and application over a six month period.
In this screenshot you'll see the chatbot, Top Gun SellFun, checking in on an exercise about the concept Cultivation.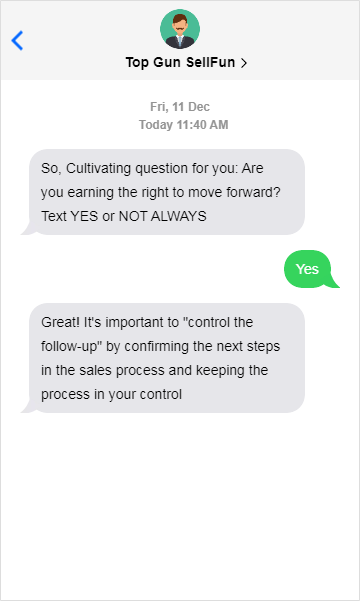 Since launching their chatbot:
Freeman has had 205 sales employees engage with Coach Top Gun SellFun.
93.2% of users remain active throughout the six month chatbot experience
 with an impressive 57% power user ratio.
Most importantly, Freeman has seen an increase in Selling Fundamentals graduate success which has led Freeman to design additional chatbots on the Mobile Coach Platform.
As the world's largest brand experience company, Freeman helps organizations connect with their customers by delivering seamless, innovative, and immersive brand experiences. Through comprehensive solutions including strategy, creative, logistics, digital solutions, and event technology, we help clients increase engagement and drive results.
Learn how Mobile Coach chatbots will help you drive real engagement with your audience to achieve the key behaviors and results you want.