Chatbots are designed to be automated, however, there are times when it's necessary to have a chatbot-human transfer. At Mobile Coach, we've worked on thousands of chatbots in hundreds of different use cases and there are very important uses for human intervention. 
Examples of When a Chatbot-Human Transfer
A chatbot offers an option to "Chat with a Live Agent." This is the most common reason for a a chatbot to transfer to a human. 
A user responds to a chatbot in an unintended way. Then, instead of the chatbot getting "stuck", you want a person to review the response and get the user back on track.
Your chatbot acts as your "assistant." At any time, the user can ask the chatbot to send you a question directly.
As chatbot creators encounter such use cases, they want an easy way to view and jump into a chatbot conversation. The key to a seamless transition is an easy way for a human to take over. As such, Mobile Coach has developed a robust and easy-to-use inbox for chatbot managers to do just that. And it's mobile-friendly!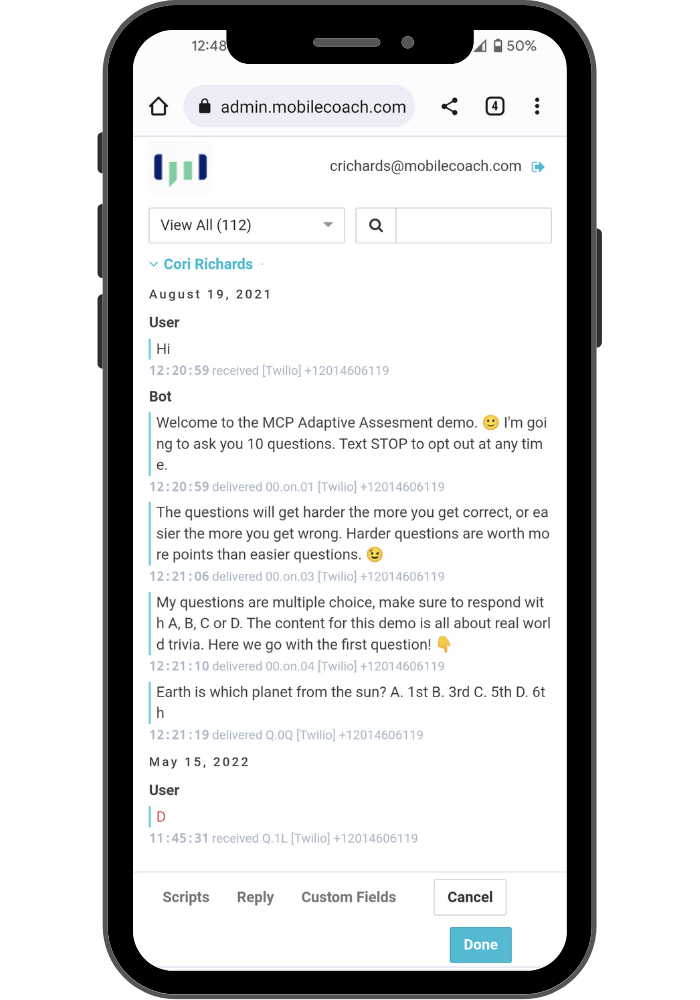 Key Features of Our Inbox Include:
Mobile phone friendly interface.
Easy search functions to find your user.
Custom "inboxes" to group users.
Reserve button to avoid multiple helpers overlapping each other.
Full chat history to view conversation context.
Ability to schedule replies.
Ability to select from a list of existing responses.
Robust notification options so you can receive an email, SMS, or messaging app notification with a link directly to the conversation.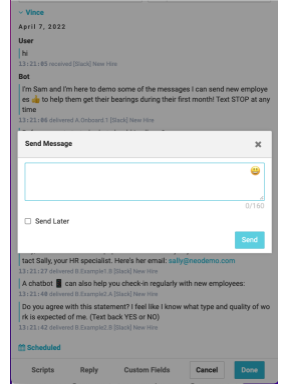 The Mobile Coach Platform inbox empowers chatbot creators to be in full control of their chatbot experience. This allows them to better accomplish their business goals and make sure each user is well taken care of.
"Our team loves the Mobile Coach inbox. It allows our team of health coaches to keep our weight loss clients accountable on a day-to-day basis in an unmatched way for both client success and competitive advantage!"
– Dan LeMoine, CEO of re:vitalize weight loss & wellness
Learn how Mobile Coach chatbots will help you drive real engagement with your audience to achieve the key behaviors and results you want.